It all began in 1981 when Sri Sri Ravi Shankar, a humanitarian & spiritual leader and an ambassador of peace and human values, noticed children of construction workers playing in the dust while the Art of Living center was being built.
Sri Sri observed that these children had no access to education. Basic lessons, healthcare, and free healthy food were provided to the children. With support from donors like you, we now have over 700 schools with over 70,000 children. When we educate our children, we empower our communities.
We believe that education is a universal right that can help break the cycles of poverty, disease, and social inequity. It empowers children with the knowledge, skills, and confidence they need to shape a better future for themselves, their communities and the world. Join us in making the world a better place, starting with one child at a time.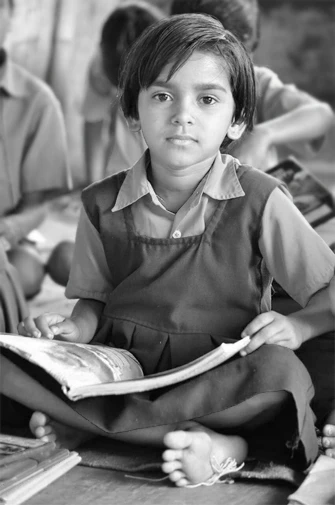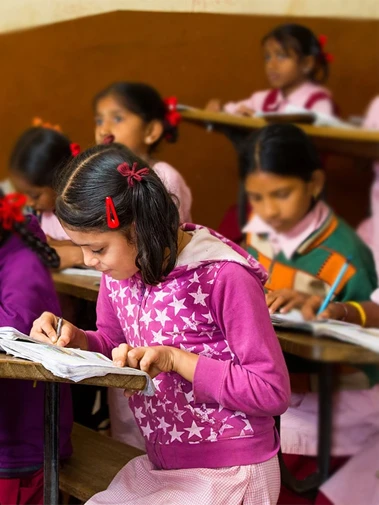 Besides academics, a host of other programs, including personality development programs, daily pranayama & meditation, and a variety of extra curricular activities, are practiced.
Teachers are trained in methods of holistic education, pranayama and meditation practices, and participation in community development programs, making them agents of change.
Staying in constant communication with parents as well as conducting yoga & pranayama programs and health & hygiene awareness camps helps bring about a positive environment for the children to be nurtured in.
100% graduation, zero drop-outs, and more than 90% attendance.

what we do
Value based nurturing
Today, the Care for Children initiative has touched more than 70,000 young children in 702 schools across 22 states of India, in the slum, tribal, and rural belts, where child labor and poverty are widespread.
Through the two different formats - Sri Sri Gnan Mandir Schools (SSGM) and Sri Sri Bal Vidya Kendra (SSBVK) - the Care for Children initiative supports children of ages 3 and beyond.
SSGM provides primary and secondary education from Kindergarten to Grade 10. These schools focus not just on the academic growth of the child but also on value-based nurturing.
SSBVK schools are based on feeder formats. Catering to children in the 3-5 years age group, the schools act as agents to nurture children from very tender ages. The idea is to share moral and cultural values from an early age. This 2 hours / 5 days a week format is gaining popularity among rural Indian parents.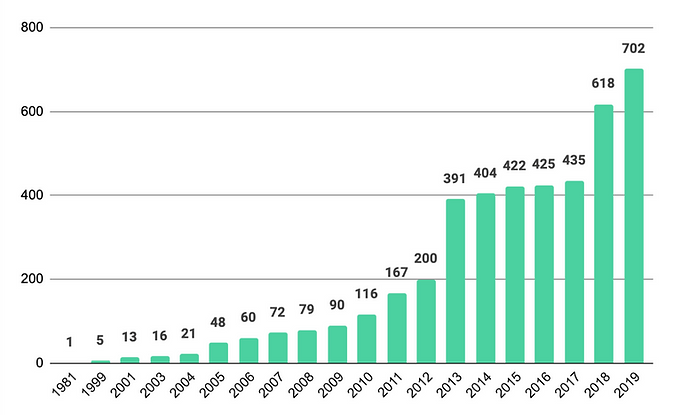 Schools and Students in India
Our Journey so far
Ved Vignan Maha Vidyapeeth Trust, a sister organization of The Art of Living, is a non-profit, educational, charitable trust that aims to kindle the spirit of cherishing and celebrating life in every individual. In India, where there are still many areas where children don't go to school, VVMVP aims at empowering children from low socio-economic backgrounds, bringing smiles to their faces, and ushering the spirit of celebration, by providing free, quality education. This initiative was started by providing education to underprivileged rural children in Udayapura Village on the outskirts of Bengaluru, Karnataka. Today, The Art of Living Free Schools (supported by Care For Children) provide value-based, holistic education to children at no cost to their families. We have extended our reach to over 70,000+ students in 702 schools, in the slum, tribal, and rural belts across 22 states of India, where child labor and poverty are widespread. Inspired by Sri Sri Ravi Shankar's vision of value education for all, these schools impart education integrated with values.
A smile is an expression of joy and celebration. Happy and smiling children not only infuse a smile on our faces but also are a sign of a healthy and happy society. Each one of us cherishes this smile and wants to spread this.
Gift A Smile is a fundraising project for the Care For Children that provides free, value-based holistic education for underprivileged children, thus bringing smiles to their hearts. Gift A Smile is another name for the Care For Children fundraising project that provides free, value-based holistic education for underprivileged children, thus bringing smiles to their hearts.
The Art of Living Foundation's Care for Children service project needs your support to make a difference in the lives of many children and families that are currently coping with the heart-wrenching conditions that they live in.
You can make one of the best charity decisions of your life by supporting these children. Your charity will provide the gift of education to a child and change a life. This will also lead to an increased literacy rate in India.
We invite you to make an online donation.
Care For Children Schools In India
| S.No. | State | No. of Schools | No. of Students |
| --- | --- | --- | --- |
| 1 | Andhra Pradesh | 3 | 625 |
| 2 | Assam | 20 | 3580 |
| 3 | Bihar | 3 | 1235 |
| 4 | Chhattisgarh | 63 | 3880 |
| 5 | Delhi NCR | 4 | 822 |
| 6 | Gujrat | 16 | 741 |
| 7 | Jharkhand | 21 | 3939 |
| 8 | Karnataka | 1 | 2330 |
| 9 | Kerala | 2 | 339 |
| 10 | Madhya Pradesh | 17 | 3525 |
| 11 | Maharashtra | 10 | 2073 |
| 12 | Manipur | 1 | 158 |
| 13 | Meghalaya | 2 | 232 |
| 14 | Odisha | 174 | 9162 |
| 15 | Punjab | 1 | 35 |
| 16 | Rajasthan | 8 | 2389 |
| 17 | Tamil Nadu | 2 | 1066 |
| 18 | Telangana | 1 | 930 |
| 19 | Tripura | 45 | 4922 |
| 20 | Uttarakhand | 1 | 74 |
| 21 | Uttar Pradesh | 253 | 19755 |
| 22 | West Bengal | 54 | 8604 |